Instructional Rounds and UDL
Instructional rounds are a productive and supportive way to improve instructional practices. They are based on inquiry versus evaluation. Nothing is good or bad; rather, the observers and the classroom teacher work together to identify how instruction can shift to make progress toward an identified goal. In this episode, Principal Keith Tonn shares how he and the Eisenhower Elementary 2st Century Coach have been conducting instructional rounds to support their staff in their use of UDL to design their lessons and learning environments. Our conversation got me thinking about typical tools for UDL look for's and what might need to be added.
UDL is often defined by what is in the graphic organizer, or the UDL Guidelines.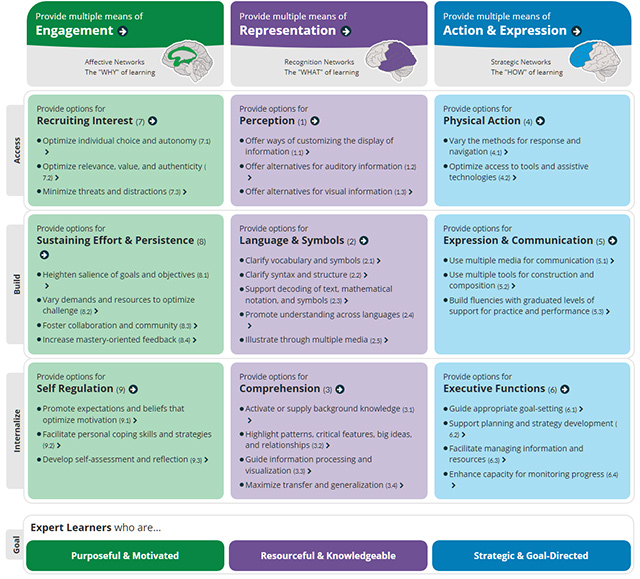 I suggest adding a few questions that get to the foundations of UDL.
Are all learners present? (i.e., are there learners who have been placed in other learning environments instead of this general education setting?)
If all learners are not present, what are the design barriers that are keeping them out of the general education setting?
What scaffolding is embedded within the instruction?
What strategies are in place so students can ask for clarification or support from others (adults or fellow students)?
In what ways does the design of the environment support equity?
In what ways are the assessments used during the lesson directly connected to the goal of the lesson.
In what ways are the materials and methods used during the lesson directly connected to the goal of the lesson?
What examples of student voice and choice do you see?
By responding to these questions via observation and conversation, discussions about UDL become richer and more strongly connected to the purpose of UDL – to create environments where all learners can become expert learners.