Books & Games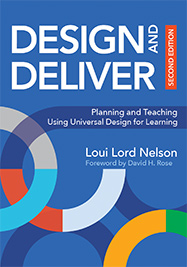 This 2nd edition of Design and Deliver: Planning and Teaching Using Universal Design for Learning includes updated research connected to UDL and is informed by Loui's own growth with the UDL framework. You can hear her welcoming voice and her unabashed passion for all learners. This updated edition includes moments in each chapter where you are encouraged to "ponder this" to think more deeply about what you've read and other times when you are offered a "technology byte" to share information or prompt the use of technology. Each chapter includes activities as well as end-of-chapter questions to promote extended thinking about the framework. Finally, the text includes updated stories as well as links to podcasts about UDL where you can listen to teachers around the world share their stories about UDL implementation.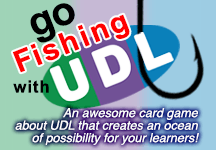 Loui's first published UDL game is called Go Fishing with UDL! This card game is an opportunity for 2-5 people (per deck) to learn about the UDL framework and put that new knowledge to use. With feedback from participants all over the world, Loui has been fine-tuning Go Fishing with UDL since 2018. Now it's your turn to play! Learn more!
Based on the UDL Guidelines™ authored by CAST and used with permission.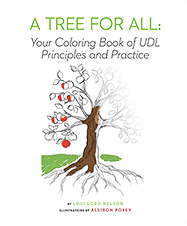 The concept for A Tree for All: Your Coloring Book of UDL Principles and Practice came from a desire to lower the barriers to understanding the important underlying concepts of the UDL framework. The book provides visual representations of how the UDL framework works to help create expert learners including:
Variability
Accessibility
Flexibility
Goals
Rigor
Choice
The curriculum
By design, the book encourages engagement through representation and encourages action and expression!
See the videos below that explain more about the book.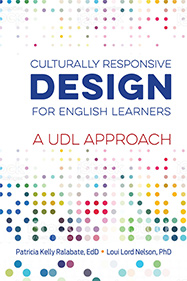 Culturally Responsive Design for English Learners: The UDL Approach grew out of a conversation between Patti Ralabate and Loui Lord Nelson about the disconnect they saw in other materials specific to teaching English Learners. Most materials focused on the academic needs of English learners but did not bring in how to support their social emotional needs. Using the UDL framework as their guide, Patti and Loui address this in two specific ways:
they share how culture, context, and language shape learning and how to apply culturally responsive teaching to second- or dual-language learning.
they offer classroom examples, easy-to-read tables, illustrations to help communicate complex ideas, and reflection questions at the end of each chapter to encourage readers to think deeply about the topics presented.
Released in October of 2017, the book has taken hold in the UDL community and is spreading throughout the community of English learner educators.
See the videos below that explain more about the book.
In Belonging and Resilience in Individuals with Developmental Disabilities – Community and Family Engagement, a variety of authors examine belonging as a key determinant for the inclusion of individuals with developmental disabilities. Loui's chapter, "Using universal design for learning to understand the power of belonging" uses a case study to guide the reader's consideration of how UDL can be used to design environments that are driven by belonging to build resilience.
Videos
Using the Tree As a Metaphor for UDL
This Coloring Book Was Designed with Choice In Mind.
A Tree for All is, First and Foremost, a Coloring Book
How A Tree for All Came To Be
Culturally Responsive Design for English Learners
Addressing the Needs of All Students
Network and Learn Series: Back to School Reading
Cultural Variability: A UDL Perspective
"I met Loui as a tutor at my first encounter with UDL, at a CAST training. From that moment on, she inspired and supported me during my work on learning variability in Europe, specifically in Belgium. I had the privilege to present and work with her on several occasions, both in the US as in Europe and I always ended up with more knowledge and a broader understanding of UDL. We had the opportunity to invite Loui in Belgium for a one-week training at several teacher training colleges. At that moment, we decided to translate her first book in Dutch, so it could be used both in Flanders (Dutch speaking part of Belgium) and the Netherlands. We also worked together in a European project on diversity, as she trained our project consortium in Vienna. During this training, it became again obvious that Loui is very cultural sensitive, in line with the spirit of UDL. Thank you, Loui, for being my mentor and my friend!"

Marleen Clissen, Internationalization, Inclusion, and Diversity staff, Katholiek Onderwijs, Brussels, Belgium