UDL Game – Go Fishing with UDL!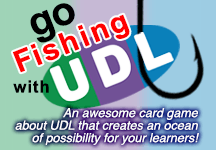 Go Fishing with UDL is here! This interactive card game for 2-5 players (per deck) creates an opportunity for you and your colleagues to learn more about the guidelines and checkpoints of Universal Design for Learning as well as overarching concepts (that make up The Ocean) like variability, accessibility, flexibility, goals, rigor, and choice. Go fishing until one of you has a card from each of the 9 guidelines. Now it's time for you all to use what you've learned from The Ocean as well as that person's cards to enhance a chosen lesson or learning environment!
Based on the UDL Guidelines™ authored by CAST and used with permission.
For schools and organizations wanting to submit a purchase order or for international inquiries, please contact Loui.
See our excitement when we first received the game!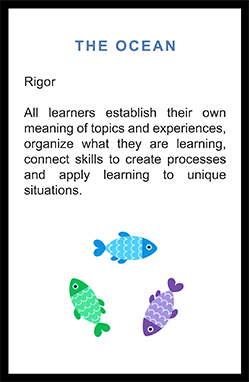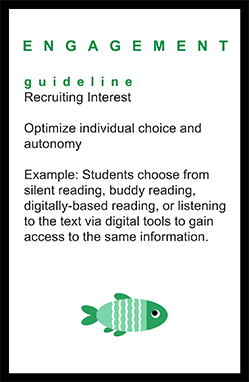 Go Fishing with UDL Instructions – The Social Distancing Version
Goal: Players will update a lesson or learning environment using select checkpoints from the UDL framework.
To win the game you must have a card from each guideline (there are 9 different guidelines).
Each card includes the name of the guideline at the top, the name of a corresponding checkpoint in the center, and an example of that checkpoint at the bottom.
Access to udlguidelines.cast.org or a printout of the UDL Guidelines is a helpful support.
Each person needs a deck of cards.
Each person pulls out The Ocean cards and sets them aside.
Shuffle the remaining cards (I suggest shuffling small groups of them at a time since these are large cards).
Each person pulls 9 cards from their deck and turns them face up on their desk or table.
Take turns reading The Ocean cards out loud. Leave them face up on your desk or table.
Taking turns, each player draws from their deck and determines whether they need that card. If they need it, they discard one of their cards. If they don't need it, they discard the card they pulled. If they want to trade a card from the same checkpoint, they can do that.
Repeat step #6 until one person has a representation of each of the nine guidelines and says "I caught UDL!" (remember to reference the CAST graphic of the UDL guidelines for clarification).
All players keep their cards out, but also pull out of the deck the cards held by the winner.
Together, using the winner's cards, talk through that person's lesson or learning environment to see how it can be expanded to provide more accessibility, flexibility, choice, and rigor to address learner variability and to support the development of expert learners!